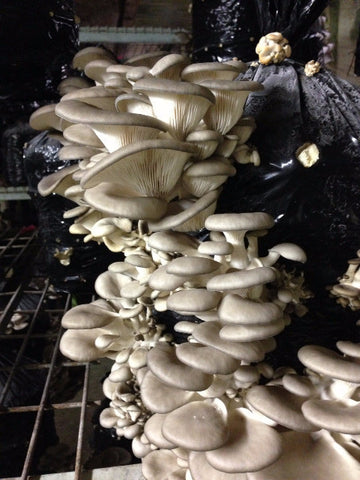 Oyster mushrooms are grown on wheat straw right here in Minnesota. They are harvested in fan-shaped clusters blue-grey in color, and have a wonderful fresh aroma.
Oyster mushrooms can be eaten raw or cooked. Uncooked, they can be sliced across the "grain" of the gills on the underside of the caps, and then sprinkled over the top of a salad, where they will add an unusual shape and texture, as well as a sort of peppery flavor which comes from the uncooked enzymes in the mushrooms. When cooked, the flavor becomes more mild but very pleasant and mellow, with a meaty but tender texture. Oysters are a complement to almost any pasta dish, stir-fry, pizza, stew or cream soup. They are also wonderful in omelets and other egg dishes.
Wholesale customers: Please contact us for current availability and pricing.
---
More from this collection