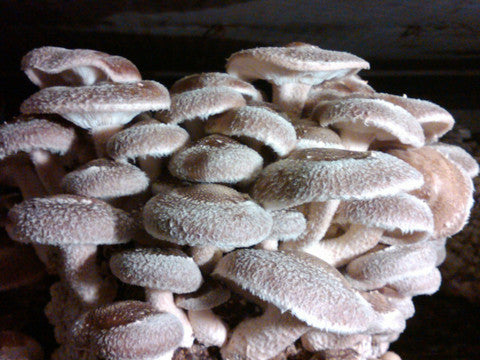 Shiitake mushrooms are cultivated on oak sawdust or logs. They have brown, slightly convex caps that range in diameter from about two to four inches, and are one of the most flavorful of all specialty mushrooms. They are also believed to have numerous health benefits, including the ability to reduce blood cholesterol levels, help prevent high blood pressure, and stimulate the immune system, which is helpful in fighting cancer.
Shiitakes are generally not eaten raw. Before preparing them, the fibrous stems should be removed. Cooking brings out the distinct smoky flavor of shiitakes. Sauté or fry them in oil for 5 to 7 minutes; or cook them with a small amount of liquid in a tightly covered pan for 15 minutes. Once cooked, add them to a pasta recipe, rice dish, soup, sauce, or stir- fry. Because of their strong flavor, shiitake complement mild meats such as chicken or fish.
Wholesale customers: Please contact us for current availability and pricing.
---
More from this collection