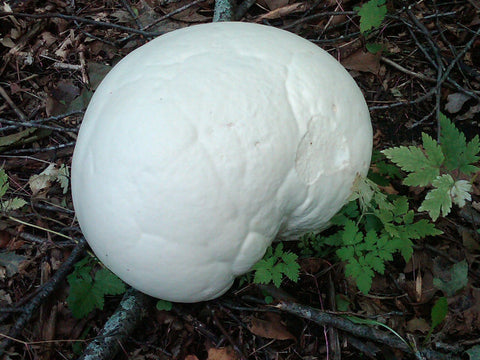 Giant puffball mushrooms are native to Minnesota and are easy to spot after heavy rains during their autumn growing season. From a distance they closely resemble an abandoned soccer ball left in the grass. There are no look-alikes to mistake for this mushroom, so it is a favorite of amateur pickers. The mushroom should be a bit resilient when pressed with a finger, and when cut in half it should be creamy white all the way through; discard if it has turned brown or yellow inside. The very base of the mushroom where it has contacted the earth is usually cut away and discarded.
Remove any brown portions and tough skin, which sometimes peels off easily. Do not soak in anything. Puffballs may be sauteed, broiled, or breaded and fried. They do not dehydrate well, but may be cooked and then frozen. Some claim the meat tastes very similar to tofu or melted cheese when cooked. It can also be sliced and then used as a pizza crust, with the toppings added on top of the sliced slabs of puffball.
Giant puffball season is August to September.
Wholesale customers: Please contact us for current availability and pricing.
---
More from this collection