Black Trumpet
December-March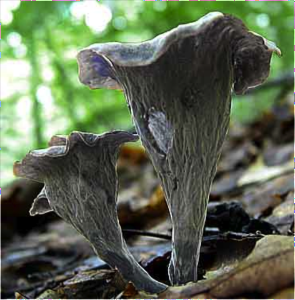 The black trumpet is a trumpet-shaped mushroom with a dark charcoal color, waxy-looking texture and no gills. In France sometimes called "poor people's meat," it has a delicate structure, with gently flared and curled ends. On the West Coast, where we get our seasonal supply, trumpets are found fruiting in hardwood and coniferous forests. The black trumpet is used with fish, scallops, pasta, egg dishes and soups. Its dark color and fragrant aroma complement cream sauces. Black trumpets are easy to dry and store for later use. Clean these delicate mushrooms carefully.
Black trumpets are generally harvested from December through March.
Retail customers, look for our fresh and dried mushrooms and spring greens  in Minnesota and the Midwest at Coborn's, Cashwise, Cub Foods, Whole Foods Markets and Kowalski's Markets.
You can also buy dried mushrooms through our online shop. We offer 14 varieties of mushrooms, four blends, and porcini and portabella powders. Shipping is free on $75 orders. Visit our online shop here.
Wholesale customers: Please contact us for current availability and pricing.
---
More from this collection