Maitake (Hen of the Woods)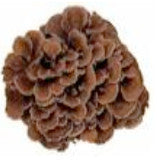 Maitake mushrooms are now cultivated and available year-round as a certified organic mushroom. They are grown on sterilized sawdust in jars and packaged in "balloon" packs of 4 ounces to protect the delicate mushrooms during handling. Also known as "hen of the woods," maitake mushrooms actually grow in the forest surrounding our mushroom farm. In the wild, they often grow in very large clusters, up to 20-30 pounds for a single mushroom! 
Wash this delicate mushroom only if you are using the wild-harvested product in season. The wild maitake does need to be cleaned carefully, as it is common for grasses and acorns to grow into the cluster.
Maitake mushrooms have a rich, distinctive flavor similar to shiitake mushrooms. They are delicious in egg dishes, tempura, soups, stews, pasta sauces or as a pizza topper. Another suggestion: Boil in beef broth with shallots, green onions, and garlic; slice them paper-thin and lay them out like a paper doily, plating the entrée on top of the lacy shape.
Like the shiitake, the maitake mushroom is the subject of many studies to determine medicinal qualities. There is evidence that both may be helpful in the treatment and prevention of certain kinds of cancers, high blood pressure, diabetes and high cholesterol.
Wholesale customers: Please contact us for current availability and pricing.
---
More from this collection