Morel Mushrooms
March-early August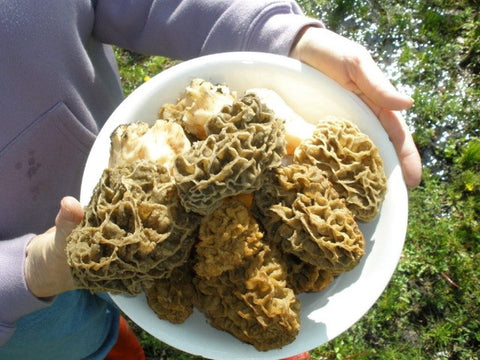 The morel is one of the most popular and coveted wild mushrooms. The honeycomb appearance and hollow core are the most recognizable visual features of the morel. There are several species of morels and thus many varieties of color, size and shape.
Morels pair well with cream sauce, which many consider the most heavenly match in mushrooms. Their strong earthy flavor tastes great in many other dishes as well, such as fish and red wine sauces. As with all wild mushrooms, refrigerate morels and cover with a wet towel to keep them from dehydrating.
The morel season runs from early March to early August.
Early in March we carry "white" morels from the western slope of the Rocky Mountains, which are very high quality, thick-walled, flavorful and have a long shelf life. In late April we supply the smaller and darker "burn" morels, so called because they sometimes grow at the site of a previous year's forest fire. During the brief Midwest morel season, we carry the mixed blonde and grey morels from Iowa, Wisconsin and Minnesota, known for their size and intense flavor. Next come the "naturals," which are also from the Rocky Mountains and are more round-shouldered and thick. Lastly, the large "grey" morels are in season from June through early August; they are harvested on the Eastern slope of the Rocky Mountains, and can tolerate summer heat.
Wholesale customers: Please contact us for current availability and pricing.
---
More from this collection