Porcini Mushrooms
Sept-Nov; April-May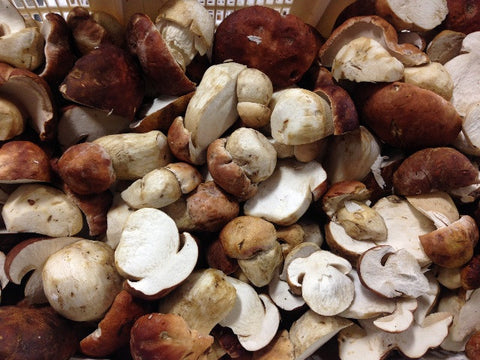 Porcini are one of the most sought-after wild mushrooms, rivaling the morel in popularity among seasoned mushroom pickers. Porcini are also known as "cepes," and are available dried and frozen outside of the short twice-yearly fresh seasons. Porcini will often be cut in half lengthwise in the forest to check for any unwanted holes and thus are packaged this way.
Simply sauté this mushroom to bring out a robust, complicated and rich earthy flavor. Porcini mushrooms are wonderful in soups, sauces or sautéed, and they pair exceptionally well with potatoes. Generally the fall porcini runs from September to November, and they are available again in March or April during the short Spring season.
Wholesale customers: Please contact us for current availability and pricing.
---
More from this collection