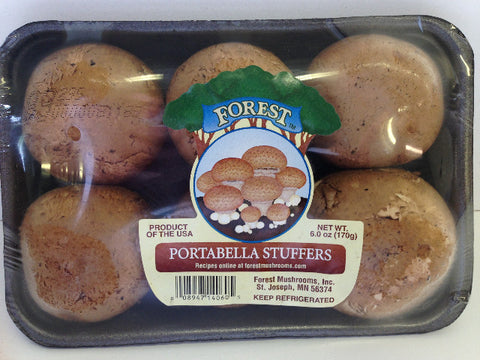 Portabella mushrooms are the most popular of the cultivated specialty mushrooms. The portabella is related to the white button mushroom – similar in texture, but with a flavor that is far more intense. Because the mushroom has been allowed to grow larger, the cap opens and the spores contained in the gills of the cap are fully developed, contributing to the intense, delicious flavor of the portabella.
Portabellas are perhaps best known as a perfect mushroom for grilling whole, and are very popular during the summer grilling season. A simple marinade or balsamic vinegar may be drizzled into the gills and left to soak into the upturned portabella cap to accent the natural flavor of the mushroom. The grilled portabella caps can be served as an appetizer, a side dish or a vegetarian "portabella burger" sandwich. They can also be sliced and served in strips instead of chicken strips on a portabella Caesar salad. Portabellas can also be sliced raw and then sautéed or stir fried with other vegetables and meats, and are a great addition to pizza and pasta dishes.
Wholesale customers: Please contact us for current availability and pricing.
---
More from this collection