Ramps (Wild Leeks)
April-May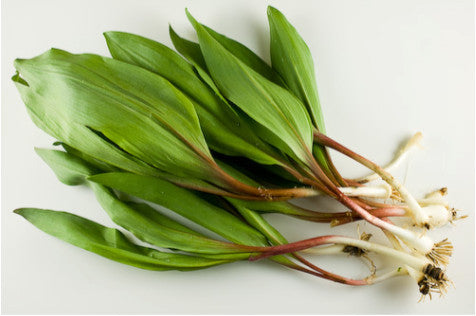 Ramps (wild leeks) are a type of wild onion harvested in early spring in the rich woodlands of the Upper Midwest and the Appalachian mountain range. Both the bulb and the greens of this wild vegetable are edible and packed with flavor.
Ramps are often prepared with potatoes, but also add flavor to sauces or in any recipe where one might normally use onions or garlic. One of the most famous uses of ramps is in the preparation of vichyssoise, a thick soup made of pureed leeks, onions, potatoes, cream and chicken stock. Vichyssoise is traditionally served cold.
There can be from 40 to 80 ramps per pound, with the count per pound going down as the sizing gets larger later in the harvest season.
Ramps are in season from early April to mid-April through late May.
Wholesale customers: Please contact us for current availability and pricing.
---
More from this collection