Dried Blue Ribbon Blend: Black Trumpet, Portabella, Porcini, Agaricus, Shiitake, Chanterelle (bulk)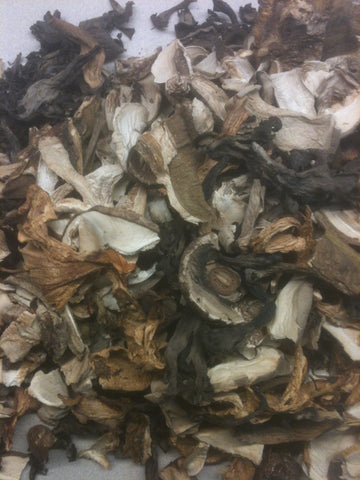 A local chef used this blend of six mushrooms – three cultivated and three wild – to take first prize in a wild game cooking competition. It has a delightful aroma and flavor! The portabella, agaricus and shiitake are cultivated mushrooms, while the chanterelles, black trumpets and porcini are harvested from the forests of the Pacific Northwest.
The black trumpets lend a rich, mellow sweetness to the mix, while the chanterelles add a blush of color.
Currently available in bulk, starting at half a pound.
Free shipping on orders of $75!
($50-$75, $5,  Under $50, $8)
---
More from this collection
Blue Ribbon Blend: Black Trumpet, Portabella, Porcini, Agaricus, Shiitake, Chanterelle (bulk)