Dried Stir-fry Blend: Shiitake, Wood Ear, Paddystraw, Oyster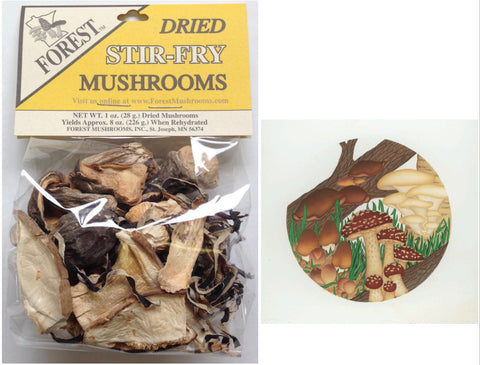 Enjoy our delicious blend of classic Oriental mushrooms: shiitake, wood ear, paddy straw and oyster. Rehydrated, these exotic mushrooms release intriguing flavors appreciated in Oriental cuisine through the centuries. This blend is ideal for your favorite stir-fry dishes or to add to sauces and light soups.
Free shipping on orders of $75!
($50-$75, 
$5
,  Under $50, 
$8
)
---
More from this collection
Always Dependable
So nice to deal with a supplier who's always reliable and prompt and delivers a product that's even better than advertised.
Must-Have Mushrooms for our Cabinet
We started buying this mix from Whole Foods (which sells this and other products from Forest Mushrooms) and were immediately obsessed with this blend. Unfortunately, it seems quite a few other Whole Foods shoppers shared our obsession, because their display was constantly sold out, haha. We were really happy to find out you could order this blend in 1 pound bulk orders, and we definitely plan to order again - this blend is perfect for stir fry, ramen, and even stews!
Outstanding
Customer service was spot on. I had issues getting on the web site and tracking the order but their response was immediate and reassuring. I haven't had great results with dried products in the past but these are outstanding. Flavor and texture are great. I will be ordering them again.
Tasty and Nutritious
We use this mix of forest mushrooms in our soups and stews.
MUSHROOMS
Wow, The price was awesome. And the quality was amazing. The one thing I would like is to know the origin of where the product came from.