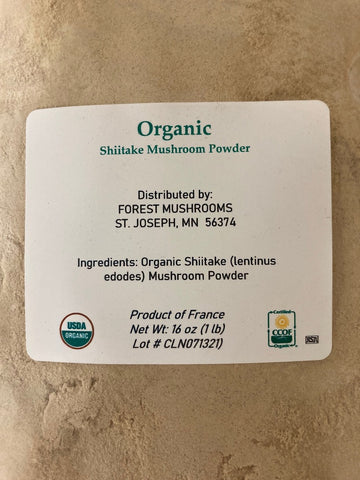 We offer extra fine organic European Shiitake mushroom powder, available in convenient non-breakable jars for your pantry, each containing 1 pound (16 oz) of dried organic porcini powder. This is a wonderful way to infuse your favorite dishes with the coveted flavor of shiitake! This powder is a product shiitake cultivated in France.
You can use this finely sifted powder to add a rich, nutty flavor to smooth, savory sauces or soups. Or sprinkle to taste as a seasoning on mashed or roasted potatoes. Make a delicious dry rub for steaks before grilling by mixing shiitake powder with coarse sea salt and fresh ground pepper.
Free shipping on orders of $75!
($50-$75, 
$5
,  Under $50, 
$8
)
---
More from this collection
GREAT COMPANY
I am so happy to have found Forest Mushrooms. The Shiitake powder is wonderful and vrey easy to use. The price is the best. Thank you Forest mushrooms.
Milder (but safer) than Chinese Shitakes
I wanted to try shitake powder from the US or Europe to avoid the possible pesticide contamination in Chinese shitakes. I use them to create my own version of soy sauce, using Miso instead of salt for health reasons. Unfortunately, I'm not getting the same depth of flavor with these. I will try using a larger amount in my next batch and see if that makes a difference.
Big bag
Looks good came in 2 half pound bags which is nice for freshness. A pound is about a gallon in volume. Equals 16 cans of canned mushrooms or 8 pounds fresh.
Taste Like Shiitake To Me
I'm a Shiitake fiend. So having a pound of it to swim in, is all so satisfying. I'm curious, however, if it's from Minnesota or from Europe by way of China. Either way, it's really good Shiitake. I smother it alll over my popcorn.