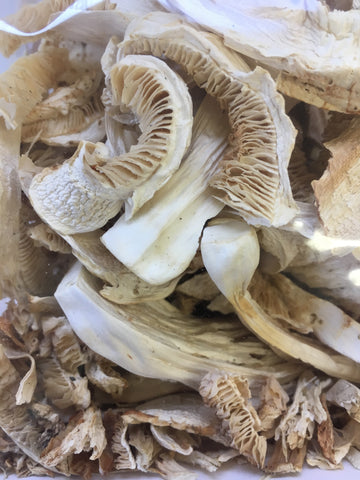 Matsutake are also known as pine mushrooms and are generally uncommon and somewhat difficult to come by. Prices and demand in Japan are very high, and many matsutake are exported from North America to the Japanese market. The matsutake has a delicate pine scent, and the taste is described as somewhat spicy.  Our dried Matsutake are top grade and very aromatic. These mushrooms are wild harvested and dried in the Pacific Northwest of the United States.
Free shipping on orders of $75!
($50-$75, $5,  Under $50, $8)
---
More from this collection
I love these mushrooms!
The Matsutake are delicious and I use them in multiple recipes including soups, rice dishes and also in my home made bean patties. They have a lovely depth of flavor and also a nice toothy bite to them to add great texture to my dishes. Never ever mushy and always flavorful! Forest Mushrooms has great quality and terrific customer service. I am a bit fan!
1st try of Matsutake shrooms
There are several mushrooms that don't agree with my particular inner system, happy to say the Matsutakes are good and gentle.
Excellent Quality Mushrooms
Very pleased with the the mushrooms we received. Excellent quality. Beautiful maitake and matsutake varieties. Also, the turkey tail are beautiful.
Excellent Product
Buying these for the 2nd time.. Whole family loves it.. :-)
Extremely pleased with entire purchase!
Order arrived lightening fast and the aroma of the mushrooms (matsuake, black trumpet & shiitake)...DIVINE! Very clean products as well. Really appreciate being able to source dried mushrooms from countries like USA and France.