Dried Organic "Eastern Cauliflower" or "Snow" Mushrooms (Tremella fuciformis)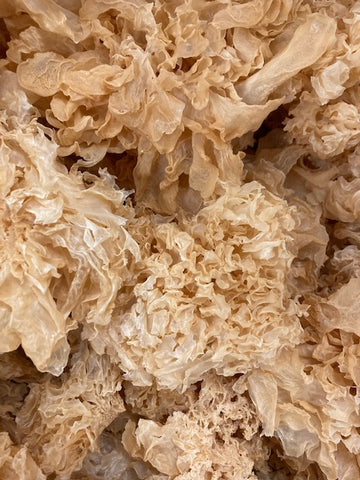 This unusual mushroom has several names, including Snow Fungus, Snow Ear, Silver Ear, White Jelly Mushroom, and Eastern Cauliflower Mushroom.  It is cultivated and is one of the most popular fungi in the cuisine and medicine of China.  It is essentially tasteless, but is valued for its gelatinous texture and its supposed medicinal benefits. It is traditionally used in sweet dishes; most commonly in a dessert soup called luk mei. It can also be used as a component of a drink or in making ice cream.  Since cultivation it is more abundant and is also used in some savory dishes. An extract from this mushroom is used in women's beauty products in Asia, as it reportedly increases moisture retention in the skin, reducing wrinkles and smoothing fine lines. It also is said to increase an enzyme that acts as a ptent antioxidant throughout the body. Tremella is also known in Chinese medicine for nourishing the lungs.  This is NOT the same mushrooms as the wild-harvested Cauliflower mushroom found in North America.
---
More from this collection
Snow fungus - Tremella fuciformis
The item was shipped promptly and visually was of very high quality. I
have already ordered another pound.
The fastet soup.
Thickens your soup and adds a pleasant taste, try to cook it with broth by itself first, to see how much it expands.