Dried USA Gold Chanterelles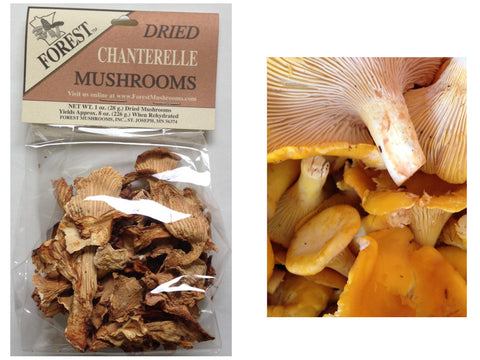 Long treasured by European chefs and foragers, these stately "golden trumpets" are harvested from rich forest lands in late summer and dried immediately to preserve their flavor and faintly apricot-like aroma. Best used in soups, stews and sauces, chanterelles complement poultry, pork and egg dishes. These mushrooms are wild harvested and dried in the Pacific Northwest of the United States.
Free shipping on orders of $75!
($50-$75, 
$5
,  Under $50, 
$8
)
---
More from this collection
A Taste of the Woods
I was surprised to learn that Chanterelles, compared to Shitake, Porcini and Morel, have the most fibrous texture even after re-hydration. They also have a distinct and unique "woody" flavor. I am someone who juliennes all mushrooms I cook with, so the fibrous or woody quality of any specific mushroom is not an issue for me. The Chanterelles from Forest Mushrooms were clean and fresh, and a real pleasure to cook with and enjoy.
Promptly shipped, great product
I've been ordering dried mushrooms from Forest Mushrooms for several years now, and have a growing collection of single varieties and blends. I have yet to buy something I was disappointed with.
I've previously purchased (and repurchased) about 10 different products. It was my first time buying the gold chanterelles. It won't be my last. During mushroom season, there are several places within a mile where gold chanterelles grow wild, and it is possible to harvest them fresh. With the rain in California, everything is a quagmire right now. I can get fresh chanterelles at our produce market, and there are some instances where fresh is preferable, but overall, I find the rehydrated dried mushrooms serve my purposes very well, and in some cases, they seem to have a more intense flavor than the fresh. There is also the convenience issue of going to the mushroom locker, picking a suitable variety, and then rehydrating them.
I'm very pleased that I discovered Forest Mushrooms. There continue to be new products to try, and old favorites to repurchase. Thank you for making it possible, and for the very reasonable shipping rates as well.
Dried USA Gold Chanterelles