Dried Organic USA Lion's Mane (Pom Pom) Mushrooms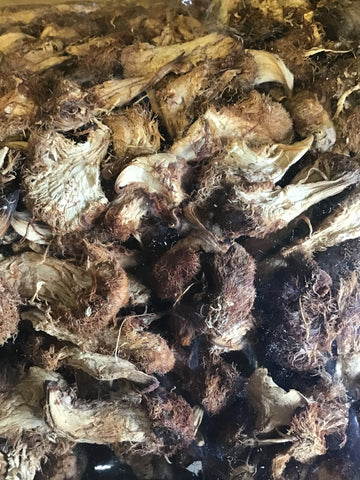 Organic Lion's Mane: Pom Pom mushrooms look like big cotton balls. Because they have no stems, they are a perfect ball of dense, meaty mushroom. The flavor is mildly sweet.Their texture and ability to absorb butter and broth when cooked that makes them the perfect substitute for crab, lobster, or even veal.These organic Lion's Mane  mushrooms were grown, harvested and dried in the USA. USDA certified organic.
---
More from this collection
Most flavorful
Quality of the mushrooms received is excellent. Had never tried lion's mane mushrooms before. They have a distinct flavor that's hard to describe...I like it. It's as if they've been seasoned with some salt, but don't think they have? I add them to my chicken soup just before serving and they have a nice kind of chewy texture similar to dried broccoli. Would recommend this company and their mushrooms.
The babies are simmering away for a double extracted tinture. Can't wait! I ordered all 7 dried mushrooms that were available, and was thoroughly impressed with the high quality.
Great product and fast delivery
I was very impressed by what I received and I will continue to buy my mushrooms with this company!!
mushroom purchase
Timely arrival; love the mushrooms! :)