Dried Organic Porcini Powder - 1 lb. bag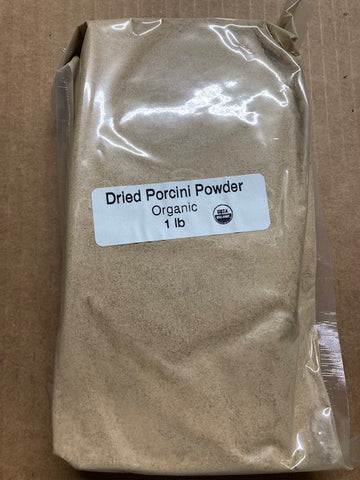 We offer extra fine organic porcini mushroom powder, available in convenient bags for your pantry, each containing 1 pound (16 oz) of dried organic porcini powder. This is a wonderful way to infuse your favorite dishes with the coveted flavor of porcini! This powder is a product porcini harvested in the wild.
You can use this finely sifted powder to add a rich, nutty flavor to smooth, savory sauces or soups. Or sprinkle to taste as a seasoning on mashed or roasted potatoes. Make a delicious dry rub for steaks before grilling by mixing porcini powder with coarse sea salt and fresh ground pepper.
Free shipping on orders of $75!
($50-$75, 
$5
,  Under $50, 
$8
)
---
More from this collection
Ergothioneine
Hi...my purpose for porcini consumption is specifically because of its elevated level of Ergothioneine and other micronutrient content.
Thanks
https://rodaleinstitute.org/wp-content/uploads/Micronutrients_and_Bioactive_Compounds_in-Mushrooms.pdf