Dried Organic Reishi Mushrooms (Sliced)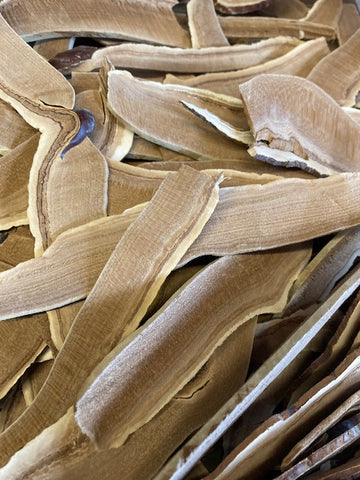 Reishi, also known as Lingzhi (Ganoderma lucidum)
Reishi is an herbal mushroom believed by some to have health benefits, though there is little evidence of its efficacy. Plenty of information on the various uses of Reishi is available online. Because of its bitter taste, Reishi is traditionally prepared as a hot water extract product. It is not intended to be eaten as a culinary mushroom. Thinly sliced or pulverized dried Reishi is added to boiling water which is then reduced to a simmer, covered, and left for 2 hours. The resulting liquid is dark and fairly bitter in taste. The process is sometimes repeated to increase the concentration. To reduce the bitter taste, some users will add fruit juices, sweeteners and herbs. Alternatively, it can be used as an ingredient in a formula decoction, or used to make an extract (in liquid, capsule, or powder form)
---
More from this collection
Dried Organic Reishi Mushrooms (Sliced)
Great Delivery and Products
Forest Products delivers Great products. The reason I didn't give a Five Star Rating. There were no Silca Gel packets in any of their product. Humity and Oxygen are major no-no's, in any dried or freeze dried foods.
Great product
We are very happy with our dried mushroom purchase! Thank you for the prompt and accurate shipment!
Great product, great service.