Dried Porcini Mushrooms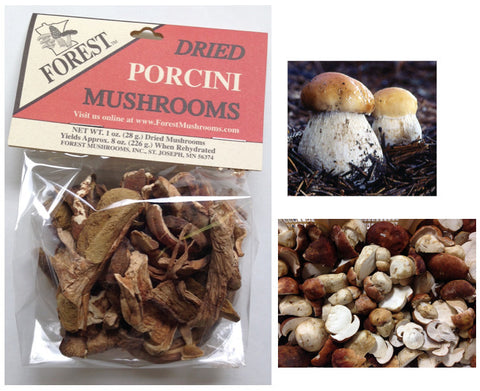 Generations of Italian families have relished gathering and preserving porcini mushrooms. Long a European favorite, this treasure of the autumn woods is known in Germany as the steinpilz and in France as the cepe. It rivals the coveted morel in popularity among seasoned mushroom pickers.
Rehydrated porcini mushrooms add a smoky full-bodied flavor and meaty texture to sauces for pasta, chicken, rice and potato dishes.
Free shipping on orders of $75!
($50-$75, 
$5
,  Under $50, 
$8
)
---
More from this collection
Great product. Good value. Quick delivery. Amazing flavor. This extremely satisfied customer will be purchasing often.
Great service, prompt delivery, quality product
I will definitely use this company again. Glad you're in MN!
Slightly smokey umami
I made Royal Carona Bean and Wine Forest Mushroom Stew with Swiss Chard. The porcini mushrooms gave it a smokey character that I loved. Very delicious.
New Favorite
Ordered some dried porcini mushrooms, as I had never tried them before was curious about them, sure glad I did, very tasty and now my favorite, will order again!
Forest Mushrooms always always does a great job!!!
I am grateful
I was looking for a mushroom supplier, after a few days I found Forest Mushroom and was ready to start my stockpiling. Living in uncertain times means you must plan for the unknown and getting mushrooms before the chance goes away was a big priority of mine. I purchased a few varieties and they are so fresh and taste wonderful, deep with flavor and cultivated with care. On top of that they came so speedily. I have nothing but gratitude when I receive so I may give the most genuine review. To simply put you will not go wrong with Forest Mushroom, I am grateful for the wonderful mushrooms, easy transaction, the fact I did not get SCAMMED, and for being able to properly prepare the best I can moving forward into the unknown. Much gratitude for the Forest Mushroom team.