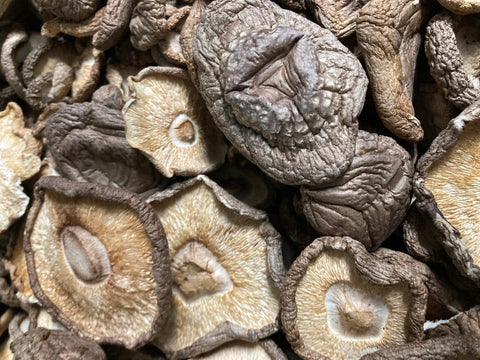 Prized for centuries in the Orient, the organic shiitake (pronounced she-TAH-keh) mushroom has a hearty flavor and meaty texture. Its Japanese name means "oak mushroom." Shiitakes are valued in Japan for their taste and heralded for their healthful effects. 
Organic shiitakes are delicious with baked fish, in omelets or in soups and stir-fry dishes. Try substituting rehydrated organic shiitakes for all or part of the beef in your favorite stroganoff recipe. These mushrooms are grown and dried in the United States and are certified organic by Oregon Tilth
Free shipping on orders of $75!
($50-$75, 
$5
,  Under $50, 
$8
)
---
More from this collection
Dried Organic USA Shiitake Mushrooms, whole (bulk)
Amazing!
Great quality. Also they are very dry so you get a lot for the weight. Taste amazing. I have tried several other brands and these have such better flavor and texture.
Shitake mushrooms, a staple in my kitchen
I love to make and consume homemade soup. Shitake mushrooms add so much to many soups and vegetable dishes, as well as to shrimp dishes and meat stews. I am glad to stock a good supply from Forest Mushrooms.