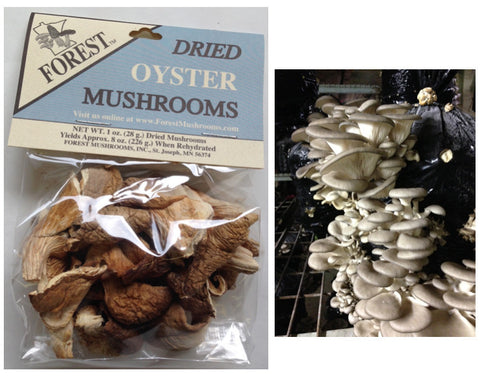 Named for their delicate scalloped shape and subtle seafood-like flavor, oyster mushrooms have a wonderful aroma. They add an appealing shape and texture, as well as a sort of peppery flavor which comes from the uncooked enzymes in the mushrooms. Cooking mellows the flavor, lending them a meaty but tender texture. The versatile "tree oysters" enliven almost any pasta dish, stir-fry, stew or cream soup, and are delicious in omelets and other egg dishes, or as a topping to pizza or steak.
Free shipping on orders of $75!
($50-$75, 
$5
,  Under $50, 
$8
)
---
More from this collection
Great mushrooms
I ordered a pound of the dried oyster mushrooms and I am impressed with the quality. I wanted to turn them into powder myself and when I reached out to the team they told me that they grow the mushrooms on hay or similar so there is no soil and mineral contact which keeps everything super clean.
Flavor is great and they make a great addition to my stocks and bases. Will buy from them again in the future. Fast, easy and high quality.
Always good stuff
Always good stuff. Thank you. Stock items for my boat pantry.
Beautiful
I ordered oyster, lobster, paddy straw, and shiitake and all are amazing and great pricing
Great mushrooms, fantastic to have around for cooking
I love all the mushrooms I've gotten from Forest Mushrooms, and these oyster mushrooms are extremely versatile. I use them for all different dishes. They rehydrate well and taste delicious.