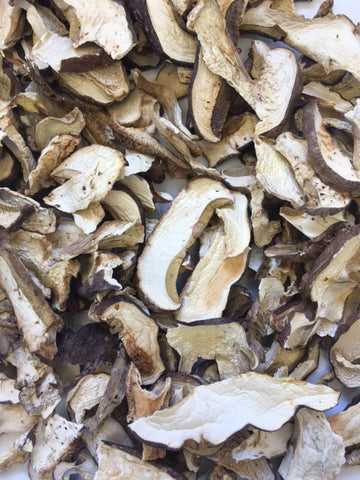 Generations of Italian families have relished gathering and preserving porcini mushrooms. Long a European favorite, this treasure of the autumn woods is known in Germany as the steinpilz and in France as the cepe. It rivals the coveted morel in popularity among seasoned mushroom pickers. These porcini are harvested and dried in the Pacific Northwest of the United States. 
Rehydrated porcini mushrooms add a smoky full-bodied flavor and meaty texture to sauces for pasta, chicken, rice and potato dishes.
Free shipping on orders of $75!
($50-$75, 
$5
,  Under $50, 
$8
)
---
More from this collection
Third order
Will always come back to order more. Fast Shipping and superb products.
Top quality product
I bought some porcini, some matsutake, and some nameko mushrooms. All came well-packed and sealed in resealable plastic bags (though I might break them up into separate smaller bags for convenience. Nice large pieces of mushroom without much "shake" of little broken bits. Taste is very good. A very good value compared to the tiny bags available in typical grocery stores.
Dried USA Porcini
Absolutely great product. I use these in sauces along with the soaking liquid. I also use these to make your recipe for creamy mushroom soup from the St. Cloud newspaper. Wonderful...
A terrific product at a great price
I discovered Forest Mushrooms about 2.5 years ago, and they became my go-to source for dried mushrooms. The quality was high, the selection and prices were terrific, and the shipping policy made doing business with them an easy decision. Incredibly prompt replies to e-mails were the icing on the cake. All of the products have been reliably excellent.
I have been through multiple bulk batches of the porcini mushrooms. They go a long way. I highly recommend the US-sourced product. I will continue to purchase these for as long as they are available. Although the review is for the porcini mushrooms, let me add that I have also bought the blue ribbon blend, the stir-fry blend, the forest blend, and the lobster mushrooms in bulk, and I have enjoyed each and every one of them. I try to buy one new variety/product in bulk each time I buy. You'll be amazed at how much flavor they add to soups, stews, and stir-fry dishes.
Better than I expected.
Great product. Large size dried porcinni.