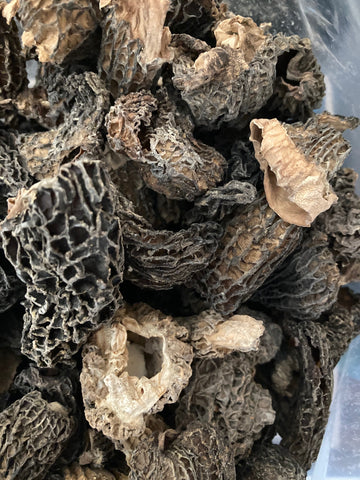 This most coveted of all wild mushrooms is picked from the forest floor only during a few short weeks each spring. Its uniquely delicious flavor is preserved and enhanced when the morel is dried whole immediately after harvest. Easily rehydrated, morels add a new dimension to cream sauces, stews and omelets. They are also excellent as a sautéed side dish or as a steak topper. These mushrooms are wild harvested and dried in the United States. We sell the whole dried mushrooms for $180 a pound.  These less than perfectly shaped dried morels have the same flavor and texture but for a whole lot less money.
Free shipping on orders of $75!
($50-$75, 
$5
,  Under $50, 
$8
)
---
More from this collection
Great mushrooms
Haven't been lucky enough to forage any yet so we were happy to get to try these morels. Great in soups!
Great for soup or make a soup stock - Not for any beginner to handle
It is morel. It should be good with egg, saucy, steak, or cream-based saucy.
Pro - Service is excellent. The ordering process is easy. The packages arrived super fast—great flavor and fantastic to make any cream soup or mushrooms chicken stock.
Con - There is way too much dirt in the mushrooms. So far, I have not found a way to clean up the mushrooms properly; I started with a brush to clean up the surface of the mushrooms before soaking them into water (2nd-time w saltwater). I changed the water 4 times before using it. When I try to eat the mushrooms, the "fine dirt" in my mouth isn't pleasant to experience. SO far, I can only clean up, soak, and put it into a tea filter bag for flavor purposes.
The soup flavor is great. It tastes even better in next day.
Delicious!
First time I had these mushrooms. It was yummy!
Dried USA No. 2 Morel (bulk)
Morel Pieces, and Shiitake mushroom
Morel pieces are very good but not as flavorful and intense as the Shiitake mushrooms.